Reliable desks have become much more important in our lives. One of the positive effects of the pandemic is that people have started to improve their work-life balance. Many of us have grown used to working from home, or have decided to spend more of our free time on creative hobbies.
As a result, having an efficient and relaxing dedicated work space is more of a priority than ever, and so finding a good desk is a must.
As important as owning a functional desk is, picking is tricky. As well as being practical, it needs to fit in with your home decor. It should complement its surroundings, rather than stand out as an obvious piece of office furniture.
If it's too out of place it could start to take over what is supposed to be your relaxing personal space. Luckily, there is such a large variety of desks out there that you don't have to settle for a boring corporate work station stuck in the middle of your cozy home.
So where is the best place to go to find a good desk that suits you best? As one of the largest online homeware specialist around, Wayfair's huge catalogue is a great place to start. When it comes to office furniture sales, they are consistently one of the most successful companies out there.
There's a reason their desks are so popular. They combine value for money, with high quality products and an incredible variety of designs.
This post contains affiliate links. Please see our disclosure for all the details.
With such an enormous selection of desks, sorting through them all might be a little intimidating. In order to help, we've done the research for you and found some of the best Wayfair computer desks you can buy:
Best for Home Office: Salina L-Shape Executive Desk
Best with a Tray: Orhan Corner Desk
Best Budget-Friendly Option: Annie Desk
Best Extra Wide: Atia Desk
Best Minimalist: Folkston Desk
Best for Writing: Axess Desk
Best with Small Drawers: Gorden Writing Desk
Best for home office
When choosing a desk for a dedicated home office you can afford to choose something a little more bold and functional. After all, you won't have to worry about your desk detracting from the rest of the furniture in the room when it's likely to be the focal point itself.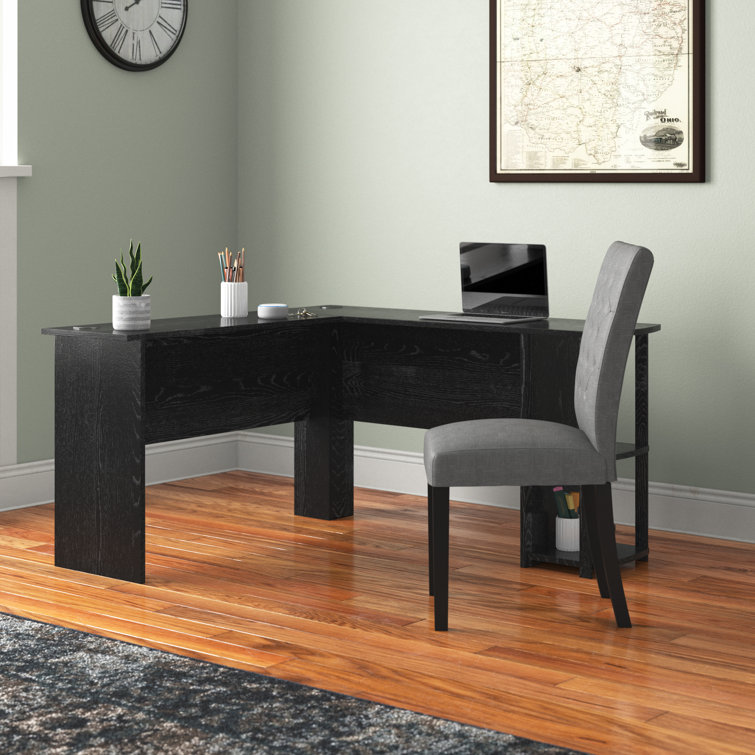 If you're looking for a spacious and practical office experience when working from home, then the Salina desk is a solid pick. It's a fairly large wooden desk with a good amount of surface space, some handy built-in shelf storage, and a functional, straightforward style.
If your priorities are something simple, effective, and fairly inexpensive then this could be the desk for you.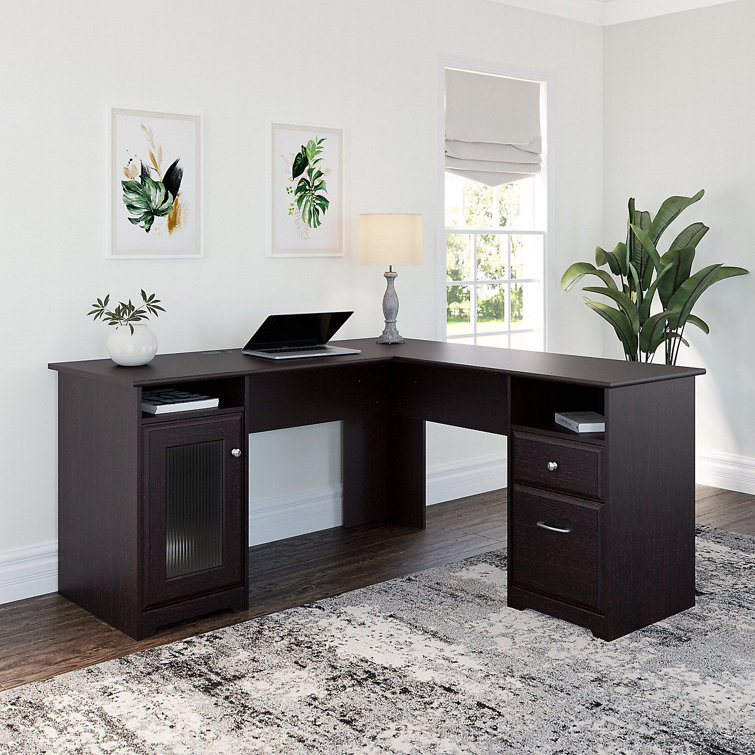 If you like the Salina's style but you need a little more storage space then check out this option.
Similar in shape and size with a little more flair, this piece has two open shelves, two pull-out drawers, and a computer tower cabinet behind a glass door. It also comes equipped with a four-port USB hub, so keeping this desk clutter free should be easy.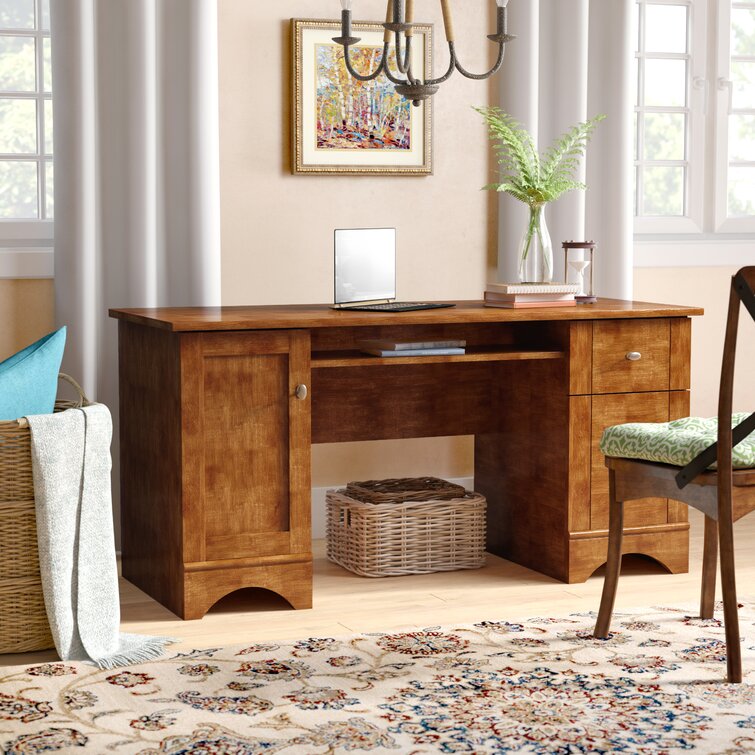 Maybe you're looking for more of a traditional style of desk to complete a dedicated study filled with your book collection? While still offering a practical work area, this has a more mature, studious aesthetic.
Though it might look more at home alongside antique furniture, it still comes well equipped for modern use, having a separate cabinet for your CPU tower, a keyboard tray, and a desk grommet to keep your cords tidy.
Best with tray
Do you need a compact desk for your available space but need plenty of room for your keyboard? Desks with keyboard trays, sliding surfaces that can be pulled out when in use and tucked neatly away when not, are the answer.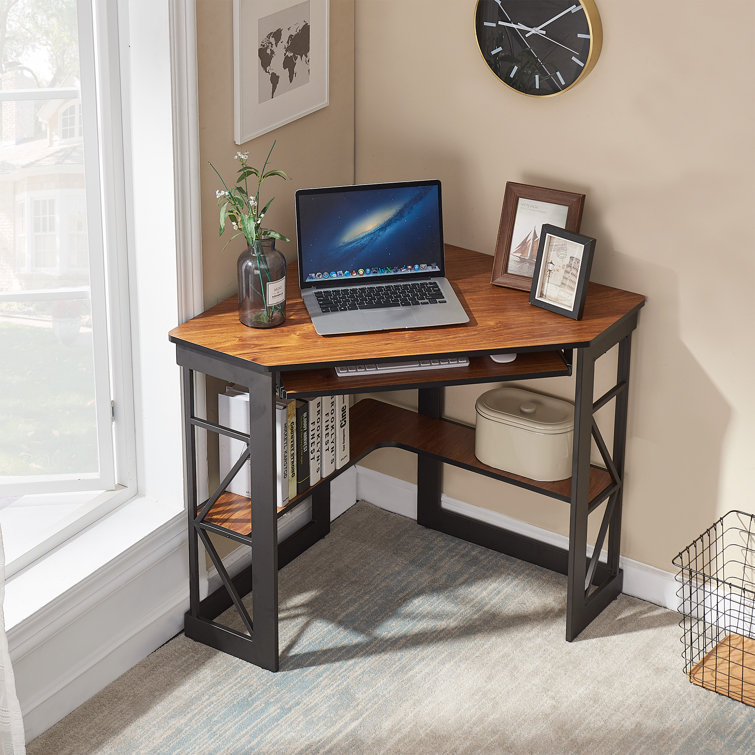 If you've limited room for your desk then it's well worth looking into this option. Corner desks in general are a great way to capitalize on limited space, and this one makes exceptionally good use of what little area it takes up.
The tray keeps the keyboard neatly tucked away, and the L-shaped under-desk shelving efficiently adds storage space. Its striking geometrical design and choice of five different colors make it the ideal desk to match with a modest modern bedroom.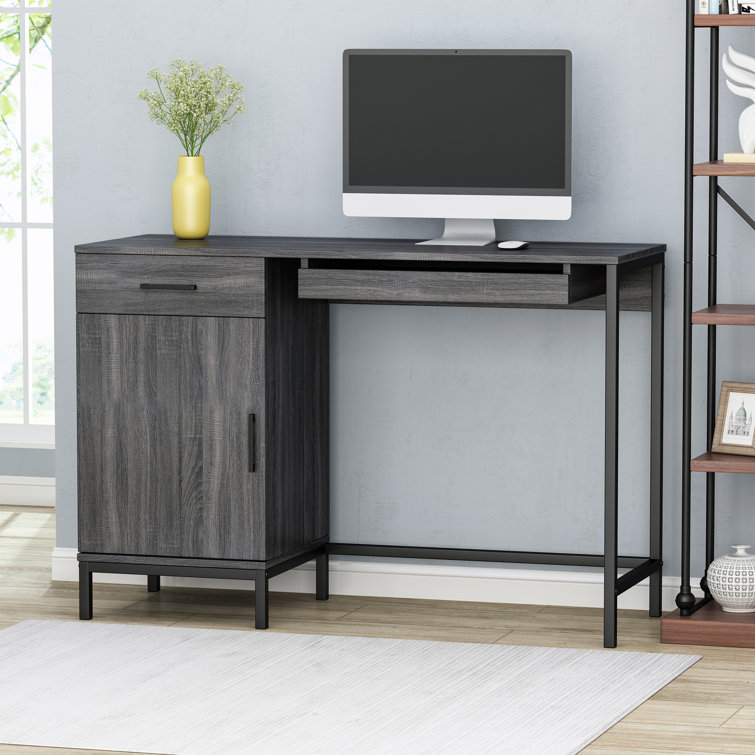 This desk emphasizes style whilst still making the most of its limited size through clever design. The keyboard tray is so discreet it's almost unnoticeable, and the desks slender frame balances its sturdy storage unit.
The combination of stark iron frame and flat wooden surface gives it a semi-industrial finish that would fit in perfectly with a quirky loft conversion.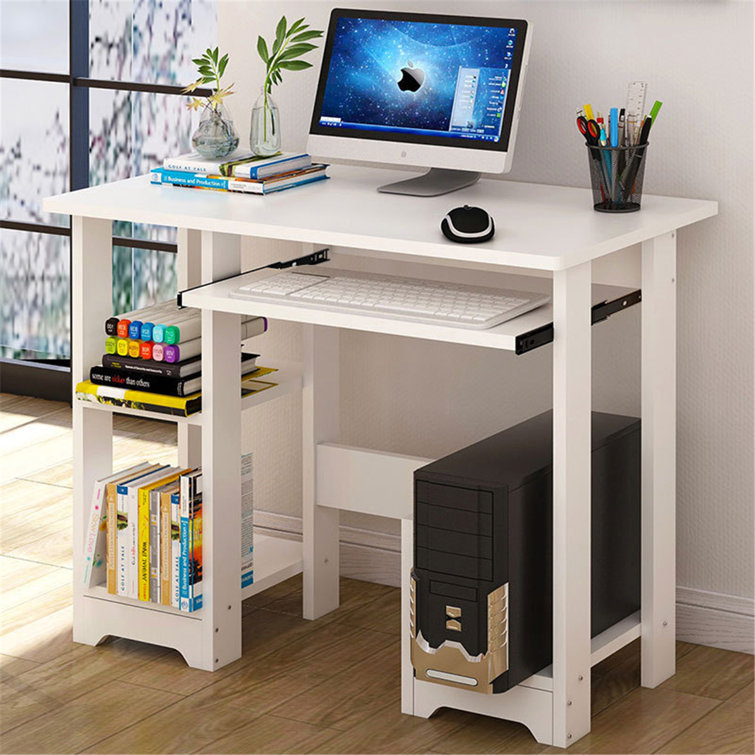 With more functional storage space available, this desk makes use of an open shelved design to maximize space it takes up without being visually imposing.
Combined with its neutral white color and neat keyboard tray, it makes a great subtle desk for a limited work space.
Best budget friendly
If you're on a tight budget Wayfair still has you covered, offering a range of very reasonably priced home office desks for around $100.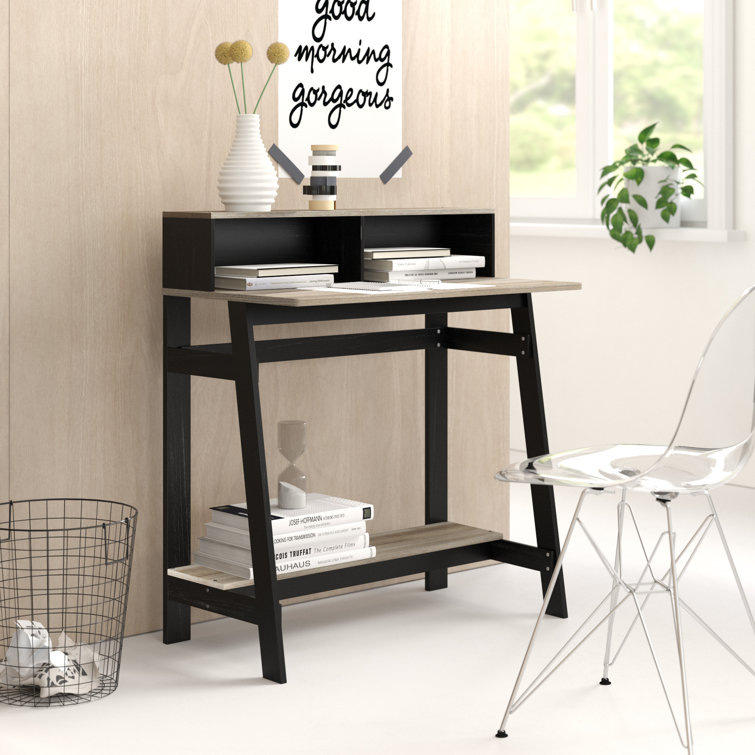 This desk is small, neat, and stylish. It's ideal for those who work with a laptop, or pen and paper, as it's not quite large enough to comfortably house a CPU tower.
Its narrow and sophisticated shape means it would work perfectly as a decorative sideboard for a hallway or kitchen. When it comes time to do some work, just pull up a chair and plug in your laptop and off you go.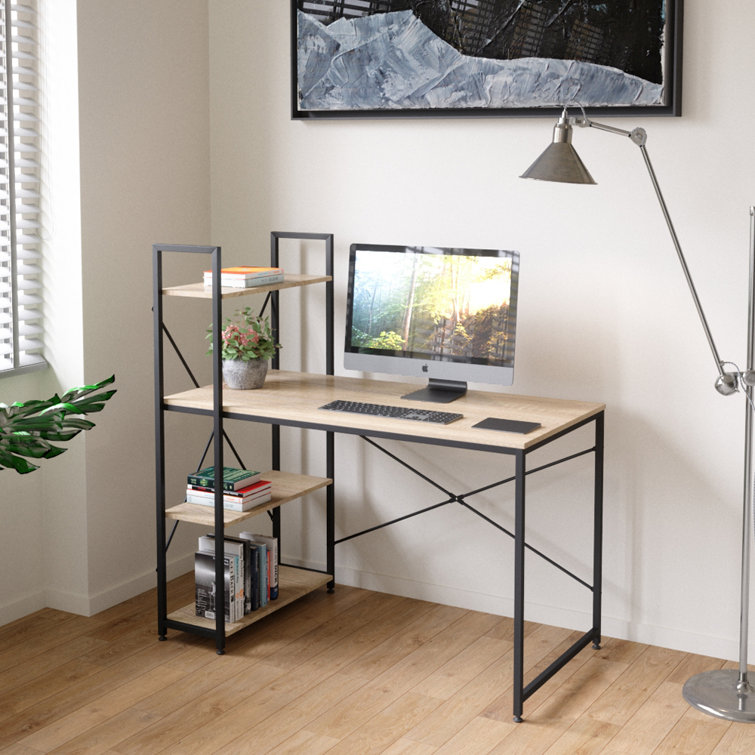 If you're looking for something a little larger then take a look at this option. Like the Annie, it's quite compact and boasts a simplistic design that won't dominate any room you put it in.
However, it's large enough that it has ample space for a computer tower and large monitor. It also has a decent amount of storage, with a built in shelving unit. This desk also has a very sleek, modern appearance, making it easy to blend in alongside contemporary furnishings.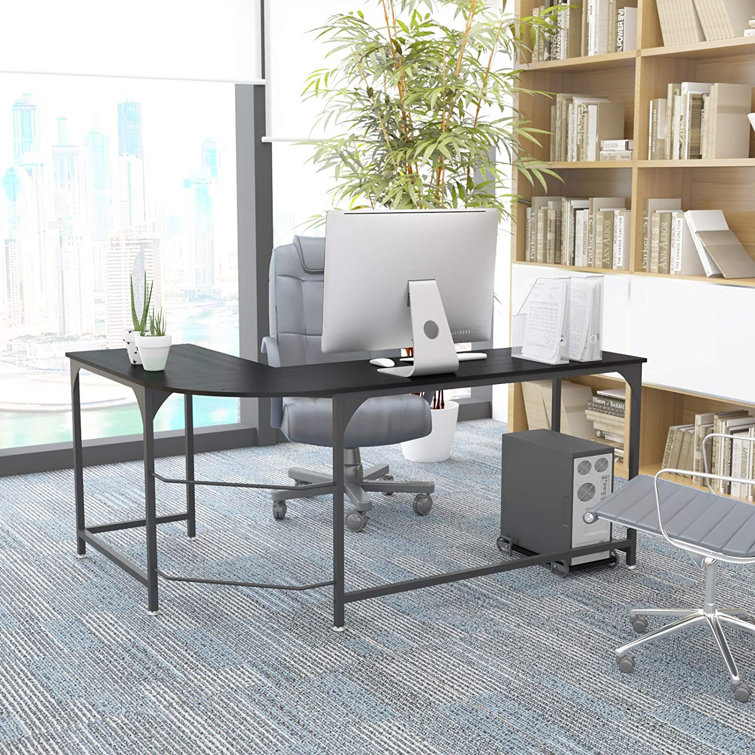 You don't have to settle for small if you don't want to break the bank. The Angelpreet's distinctive L-shape allows you to break your work space into two discrete areas, which is perfect if for creating art work or crafting with mixed media.
As it's more spacious than most computer desks it has ample room for larger pieces of equipment, such as sewing machines, drawing tools, or two monitors. Despite its size the designers have managed to ensure it isn't oppressive or bulky with a neat, minimalist design.
Have you ever wondered how to set up your desk ergonomically? You might be interested in this video created by an ergonomics expert!
Best extra wide
Should you need a particularly spacious area to engage in your work or hobby, Wayfair has plenty of extra wide desks available. With Wayfair, even very wide desks needn't look bulky or utilitarian, and they have many intimate pieces suitable for whichever room you'll be using.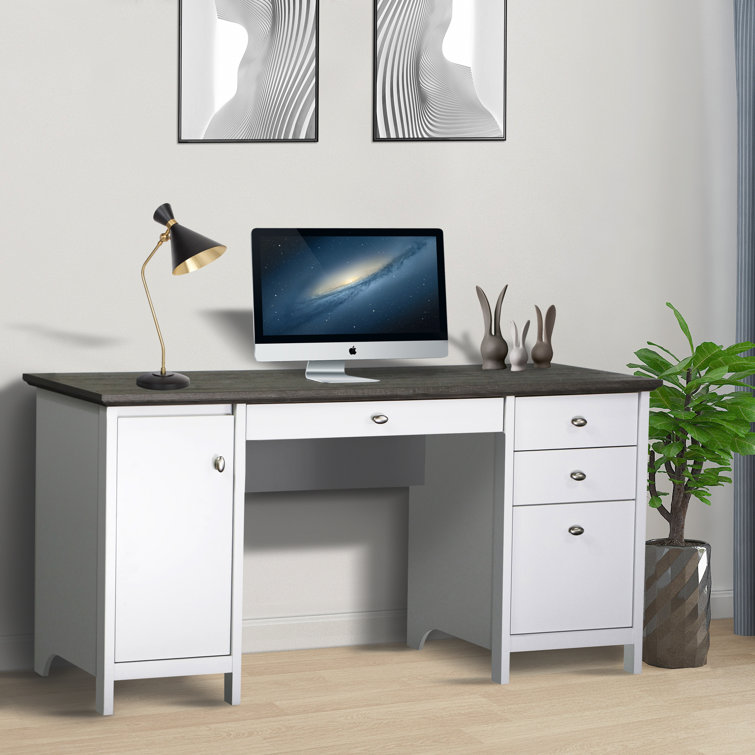 If your priority is finding a desk wide enough for your needs whilst being attractive and unobtrusive against your bedroom or office décor, then this is an excellent choice.
The Hyme's desk is certainly wide, measuring almost sixty inches across, but it has the look of a fashionable farmhouse chest of drawers. As such, if this is your style, it could easily match in with bedroom furniture, and wouldn't even look out of place in the right living room or kitchen.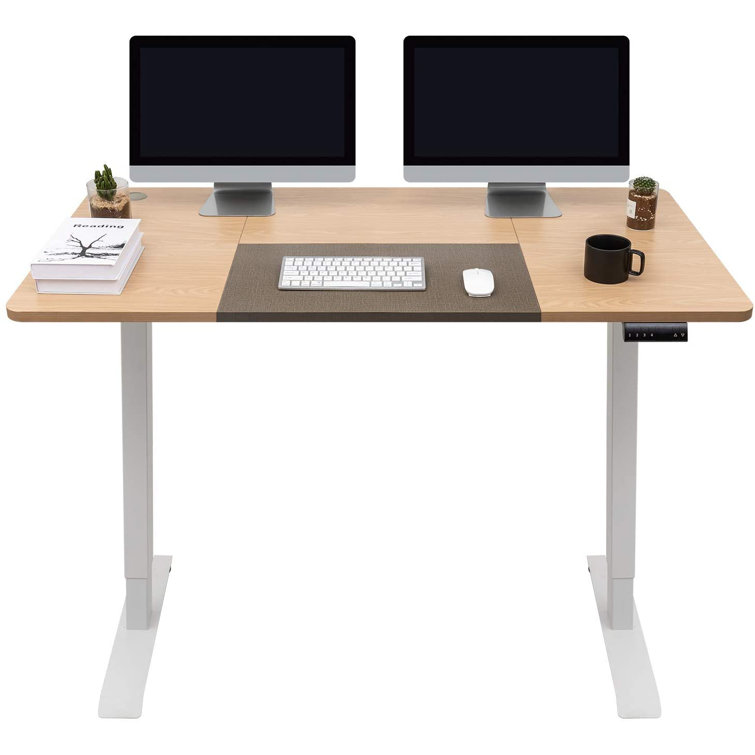 A very interesting larger desk worth considering, this piece has the unique advantage of being height adjustable at just the touch of a button. With four different height options, this is designed for more ergonomic working, as changing your position over a period of time is proven to be better for physical health and comfort. This flexibility could also make it suitable for more unusual hobby activities where different positions are advantageous.
Other being adjustable, it is a very smart looking desk, with a stylish smooth wood surface and two simple central legs. At fifty five inches wide, it is one of the more sizable, unassuming, desks Wayfair has available.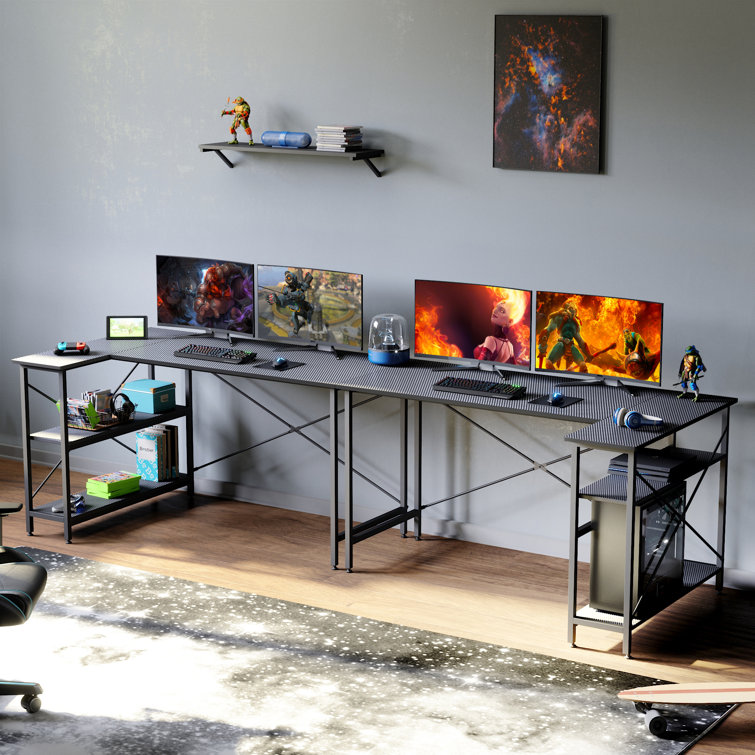 If you're more interested in efficient use of space than finding a desk that matches with the rest of your furniture, this could be perfect. While a little more austere in its design, it's still a very attractive piece of furniture.
The Atia is reversible, making it easy to fit snuggly into any corner you need it to. It's also cheaper than the previous two pieces, so if you wanted you could buy two and place them together to form one extremely large work/hobby station.
Best minimalist
Minimalist décor is very popular and makes for a very tidy and clean looking living space. It is even said that this style helps reduce stress and increase focus.
Even if minimalism isn't your style, if you're hoping to add a desk to your bedroom or hallway and you don't want it to draw too much attention, then considering a simplistic, understated designs is a good idea.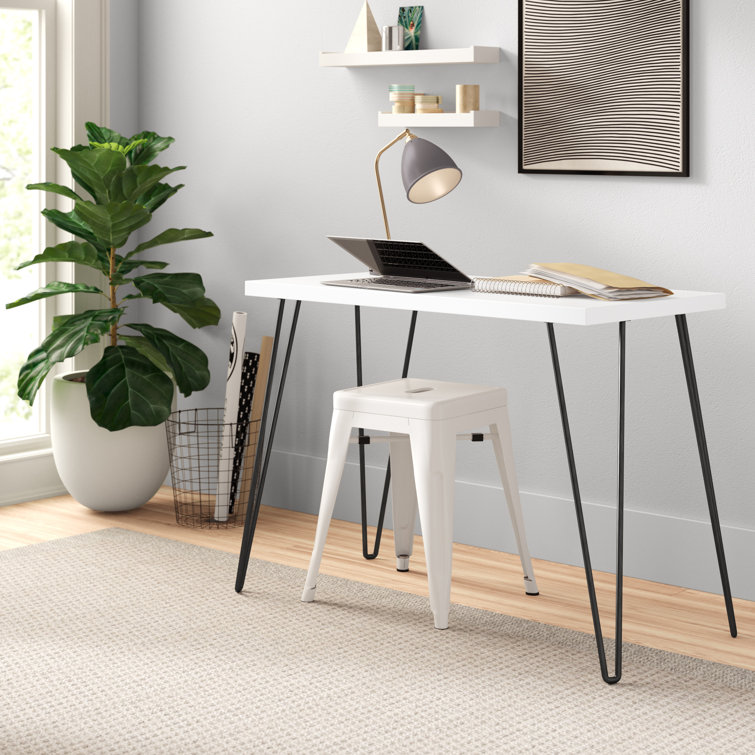 If you're really in love with minimalist aesthetics, this bold choice might suit you. Its unembellished design consists of just a single flat surface supported by two stylish hairpin-style legs.
Depending on your taste it can either make a statement in keeping with the rest of your furnishings or can be made to look so restrained it need not overshadow the rest of your room décor. It can be made in twelve different colors, making it exceptionally easy to match in your house.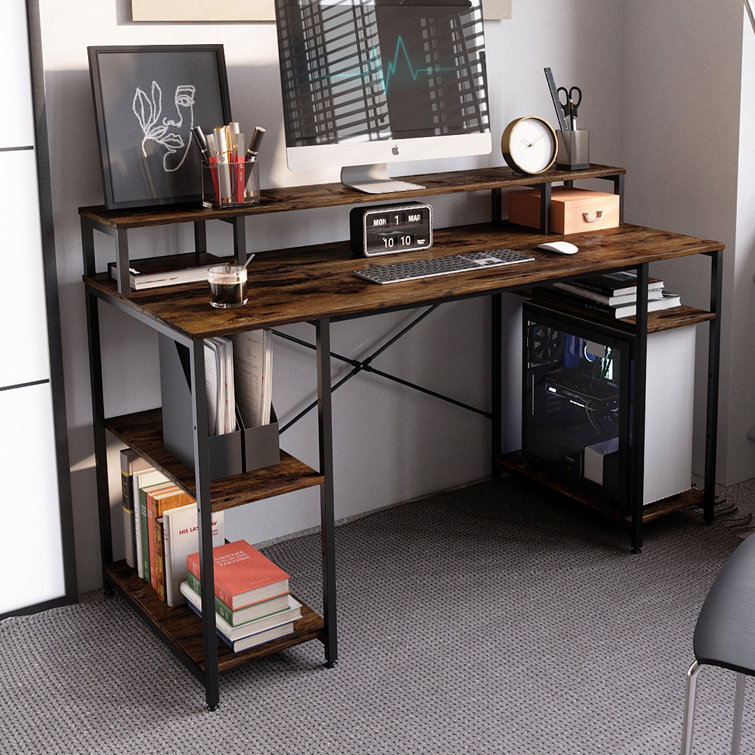 The Kinslee desk is made with a solid stainless steel frame that will take years of use. The natural wood grain finish is classic and modest. You'll have plenty of space for your laptop, keyboard, mouse, and more.
Its shelves are adjustable and strong enough to take heavy loads, so no matter what you intend to use it for storage won't be an issue. It's also designed with a raised monitor stand, intended to keep your screen at the optimal height to stop slouching or craning, preventing neck pain.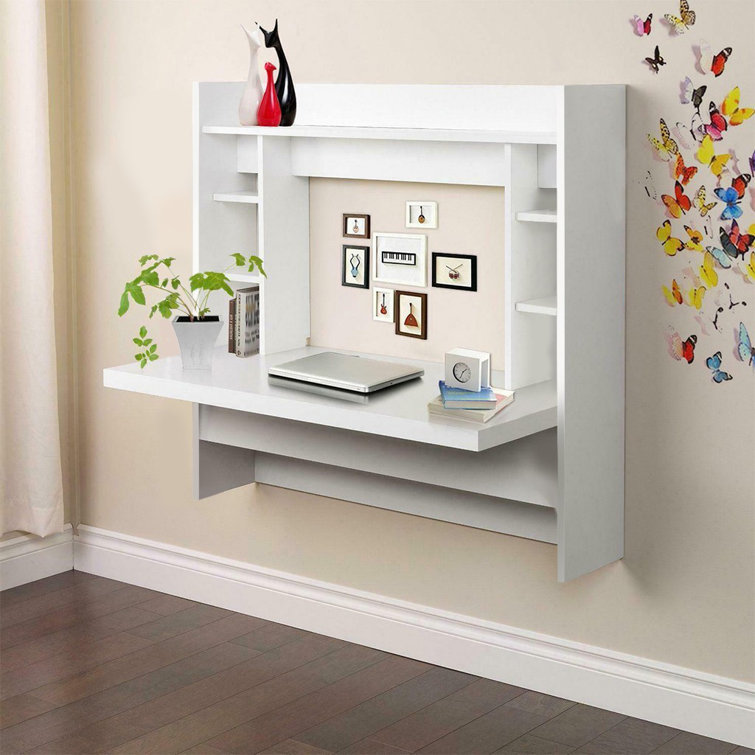 A wall-mounted piece like this is a great way to make the most of the space you have. As well as looking stunning and making an excellent talking piece, this also acts as more than just a desk. If you're short on space you can easily use this piece as a combined bookshelf and display piece for your plants, pictures, and ornaments.
Just leave a place for your laptop for when you need to work and it can double up as a work desk and a decorative shelf.
Best for writing
If you're going to be using your desk mainly for writing, there are a few things to consider. Are you the type to have scribbled notes scattered all over the place? Will you want to have piles of books on hand for inspiration?
Or is a conservative, scholarly style free of distraction more your style? Luckily, Wayfair has such a large range available they'll be certain to something to suit even the most distinctive needs.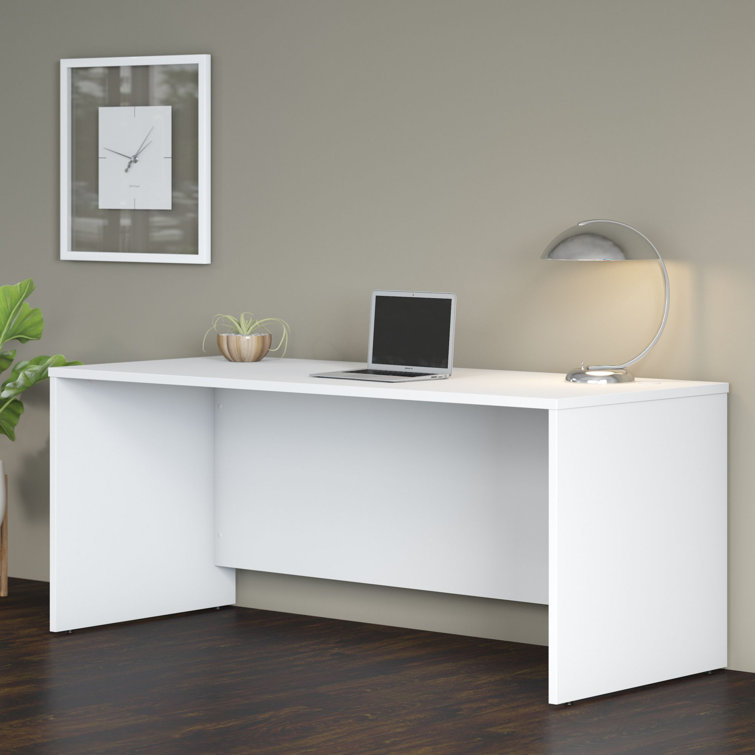 Calm, clean, and free of distraction – this desk has a remarkable simple design with a large flat surface to work with, giving you the option of keeping it stress-free and uncluttered, or to cover it in pictures and knick-knacks to keep you inspired.
Whatever your writing technique is, it's an attractive desk with loads of room for you to make the most of.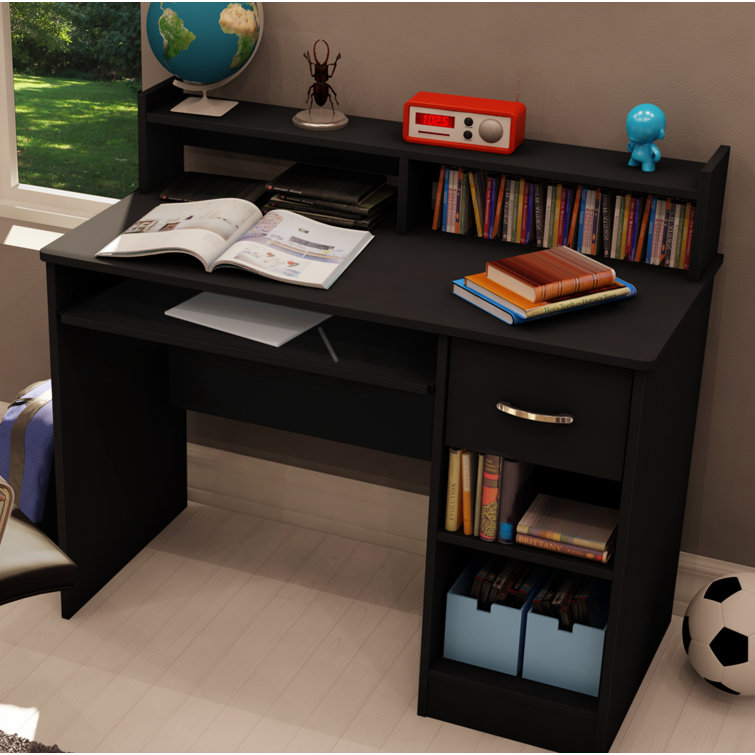 Would you rather feel like you're in the library when you're writing at home? If that's the case, then maybe the Axess is the right pick for you.
It has a studious aesthetic, with two shelves and a full length hutch, giving you ample room to keep a collection of books. As well as looking great and having plenty of storage, it also has an easy access hole at the back to organize cords, making it a great answer to organizing clutter.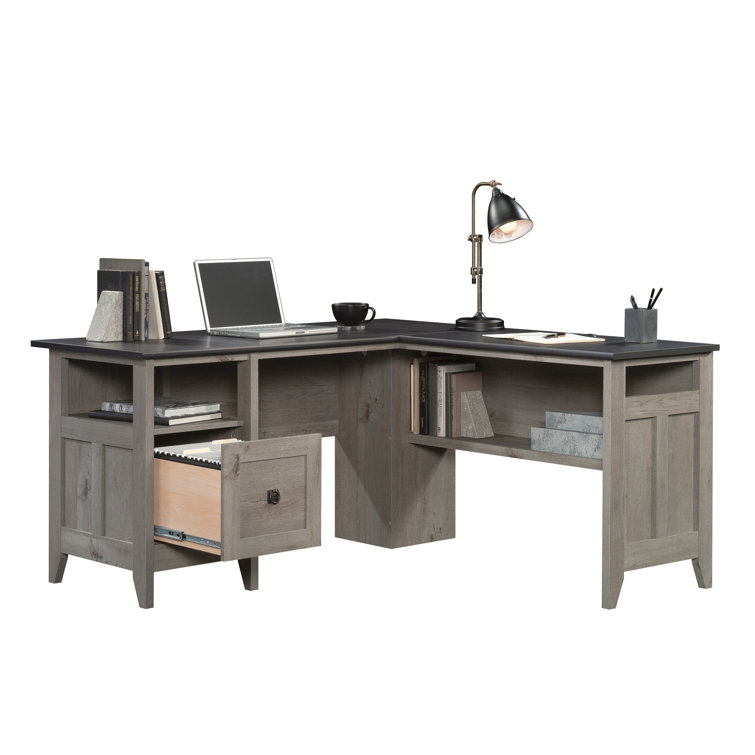 The Mirabel has all of the positive aspects of the above two desks whilst having the potential advantage of being larger. This does mean it's more expensive but if it's in your budget it could be well worth it.
It has a large, neat surface to work on, along with plenty of room for any books and papers you might need. It's open bookshelf is adjustable, allowing you to fit your books in it no matter how large.
Best with small drawers
As well as a place to sit at while you do your admin, work, or engage in some hobby time, it can often be really handy to have some storage built into a desk. This is especially true if you're planning to set it up in your bedroom or a living area and are hoping it won't encroach on your relaxing space.
Having drawers at hand to immediately store what you've been working on out of sight can really help helping your desk look like an attractive piece of furniture that fits in with your décor.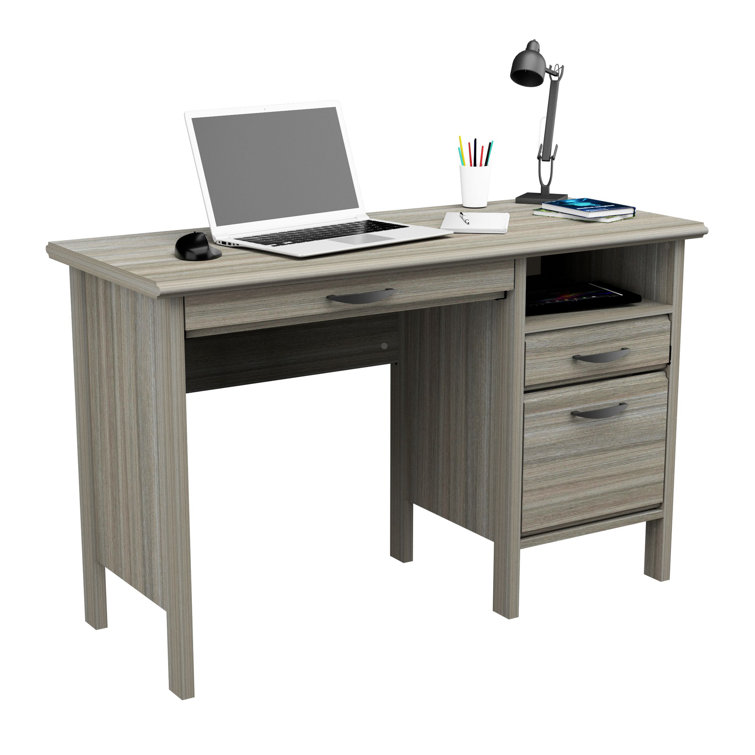 With a classic dark wood style, a reasonably slim design, and ample storage space, this desk is an easy piece to fit into an already furnished room.
It comes with one shallow drawer, perfect for documents, papers, and books, one deep filing drawer, and an open nook, best used for keeping things that you don't mind being on display.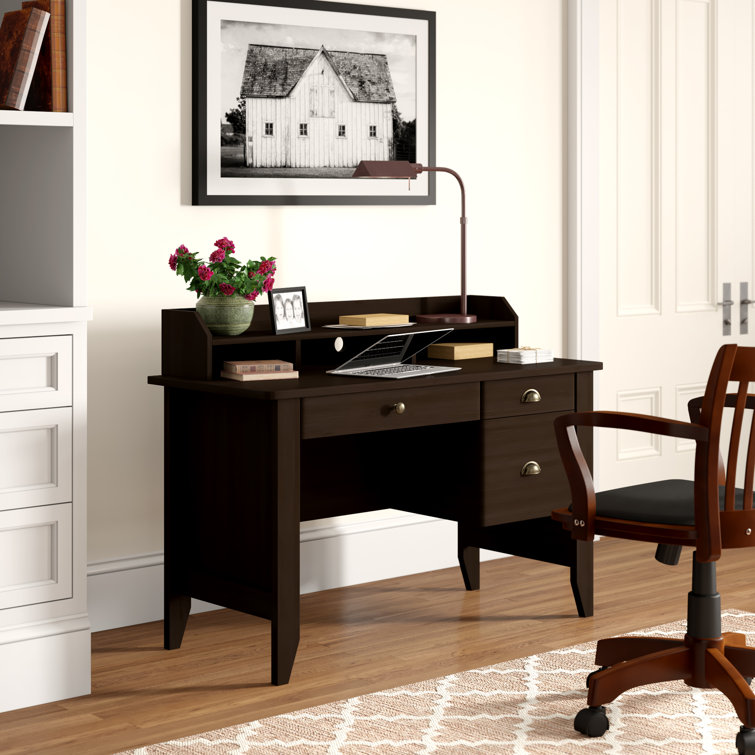 If traditional furniture is more your style then you should see what you think of this Braesen option. With very similar layout and storage space to the Shawnee, it stands out by having a more vintage appearance, with cup handle drawers and a bureau like hutch.
As well as complimenting the overall design of the piece, the hutch offers even more storage. Despite being more old fashioned in appearance this desk is not without modern conveniences. It comes with a discreet grommet hole for keeping any wires organized and a built in charger and USB hub.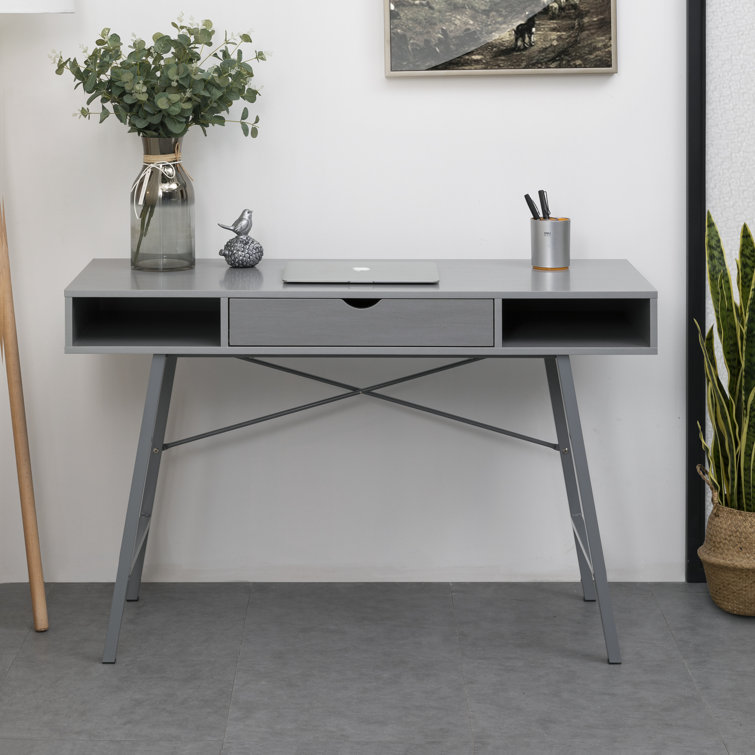 In contrast, if your style is more contemporary but you're still looking for some storage, then maybe this is the one for you.
This desk is so stylish that at first glance you may not even realize it's a desk. It has a very sleek modern design, with a gloss grey finish that will match the most fashionable of rooms. It comes with a single central sliding drawer and two open shelves, providing both open and private storage space.
In Summary
Hopefully this will have helped give you an idea of the kind of desk that'd suit your needs and has shown off the range and quality Wayfair has to offer. When you're trying to decide on which to pick, make sure you focus on what your priority is first, whether it needs to fit in to a small space, have considerable storage, or match your unique interior design.
Once you've done that, make sure to enjoy browsing for desks, and have fun adding a few family pictures or decorative keepsakes to really make it your own.
More great Wayfair finds:
Best Hot Tubs on Wayfair {top 7 hot tubs for a backyard oasis}
The 6 best Wayfair sectional sofas
More from Tiny Tree:
BEST WAYFAIR COMPUTER DESKS