If you're looking for a new sectional sofa for your home, then Wayfair is a great place to shop online as it has a huge choice of sofas and couches to suit every style and budget.
However, with so many sofas to choose from, it's easy to feel overwhelmed. To make your furniture shopping experience as easy as possible, we've done the hard work for you, filtering our way through the myriad of seating options on Wayfair to bring you the top six sectional sofas for your home in 2021.
This post contains affiliate links. Please see our disclosure for all the details.
Best curved: Everly Quinn Strouse Velvet Modular Sectional
"Promote coziness and friendly atmosphere in the living-room with a circle sectional sofa. Just imagine family and friends united in a chatty moment and lounging. This semi-circular sofa is a perfect piece of furniture for spacious interiors."
Best under $500: Almendarez 77″ Wide Reversible Modular Sofa & Chaise with Ottoman
"This modular sectional has a compact size that's ideal for smaller living rooms. You have the option to pair the included ottoman with the sofa to create a chaise lounge on one side, letting you lean back and relax. This sofa is made from solid and engineered wood, and sits on tapered plastic legs."
Best reclining: Motion Symmetrical Reclining Sectional
"Watch the big game in comfort with this 3 piece reclining sectional. Plush chenille fabric covers the heavily padded backs and seats to deliver the ultimate reclining experience. The left and right loveseats feature consoles for cupholders and a compartment to store those easy-to-lose remotes."
Best leather: Hugo Genuine Leather Large Sectional
"This beautiful sectional is constructed with thick Italian leather, designed for flexibility and durability."
Best for small living room: Luxe Sofa & Chaise
"The Luxe combines a signature sleek design aesthetic with layers of absolute comfort and is built to withstand the rowdiest of families. Get lost in a deep-seated, corded piece of heaven."
Best sofa bed: Layla 86″ Wide Reversible Sleeper Sofa & Chaise with Ottoman
"With crisp tailoring and straight lines, this Layla Sleeper Sectional featuring a 5″ innerspring mattress and heavy-duty contract grade sleeper mechanism."
The best sectional sofas on Wayfair
Wayfair has a huge choice of sectional sofas, with almost 10,000 different sectionals to choose from. Most of these are available in several different colors and configurations.
If all that seems just too much and you don't have a whole day to devote to choosing the perfect sofa, we're here to help! We've trawled through all of the sectional sofas on Wayfair, taking into consideration the good and bad reviews and the prices to bring you this selection of the six best Wayfair sectional sofas for your home.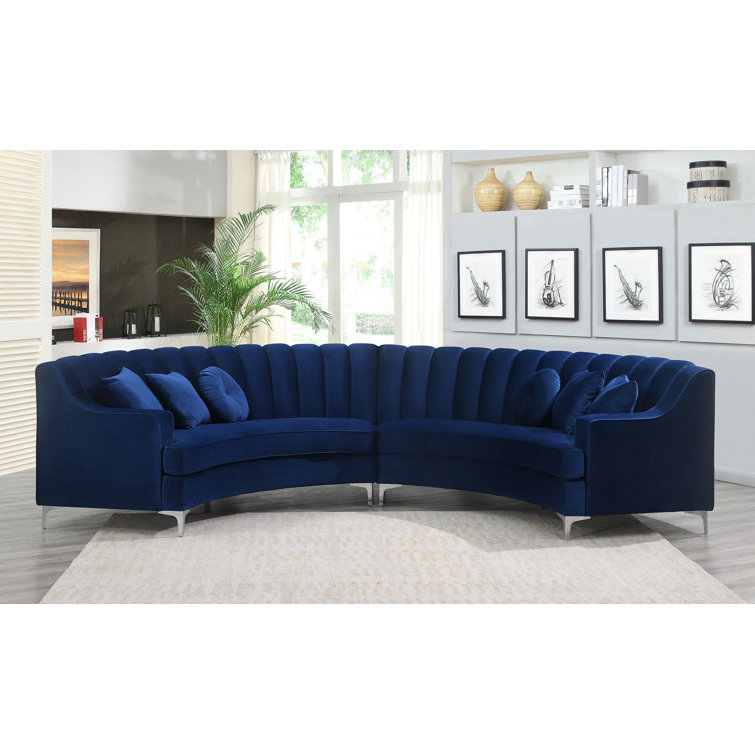 A curved sectional sofa makes a great centerpiece for a large living room and one of the best curved Wayfair sectionals is this beautiful velvet piece which is available in blue or gray.
Seating six people in comfort, this large, semi-circular sectional comes in two pieces and includes a selection of toss pillows. The beautifully soft velvet fabric gives this sofa a two-tone appearance when viewed from the side, but with no color variation from the front view.
If you have the space for it and want a beautiful curved sofa that's perfect for lounging with friends and family then you can't go wrong with this sofa which has over 100 rave reviews.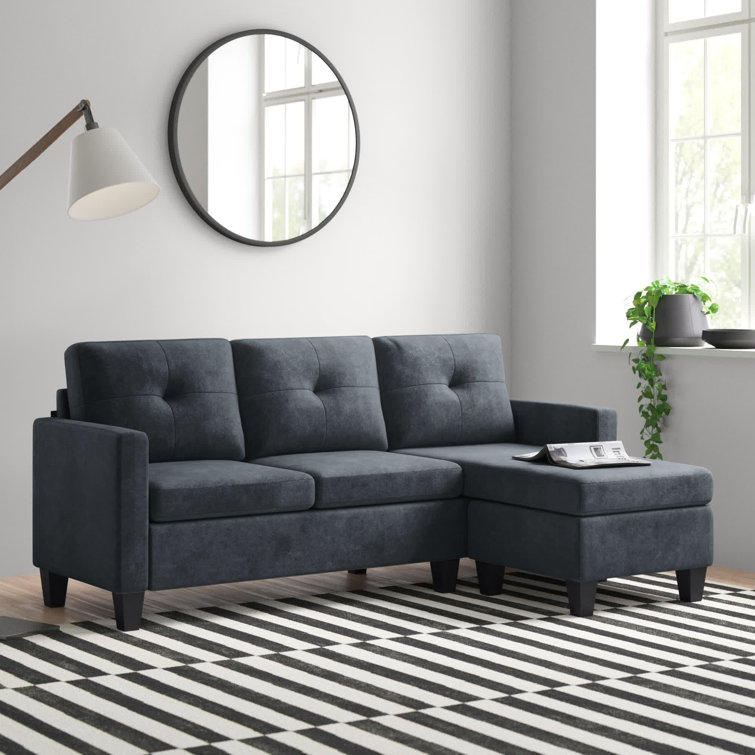 If you're on a tight budget and want a good quality sectional for under $500 on Wayfair, then look no further than this practical sectional. Seating three people and with the inclusion of a chaise, this sofa represents great value for money.
This simple and stylish sectional sofa is available in four different neutral tones: beige, gray and light gray. It's also reversible so you can have the chaise on the left or right, depending on what fits best with the layout of your room.
One of Wayfair's most popular sofas, this sectional has 100 reviews with an average score of 4 out of 5.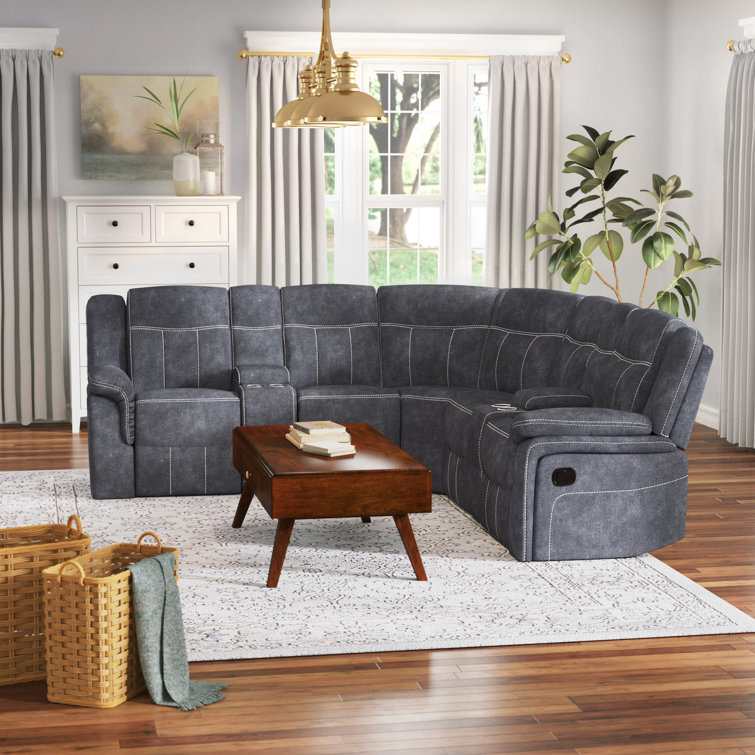 We love this reclining sectional because it's super comfortable with a plush chenille fabric and heavily-padded seat backs. Each side has a lever so that you can recline your seat to an almost horizontal position. This five-seater sofa offers plenty of space for more people to sit in the center as well.
One of the best features of this sectional is the consoles which have cup holders and armrests which can be lifted up to reveal storage compartments – perfect for storing TV remotes, games console controllers and snacks.
With all five-star reviews, happy customers report being pleased with how easy this sofa is to assemble and how durable it is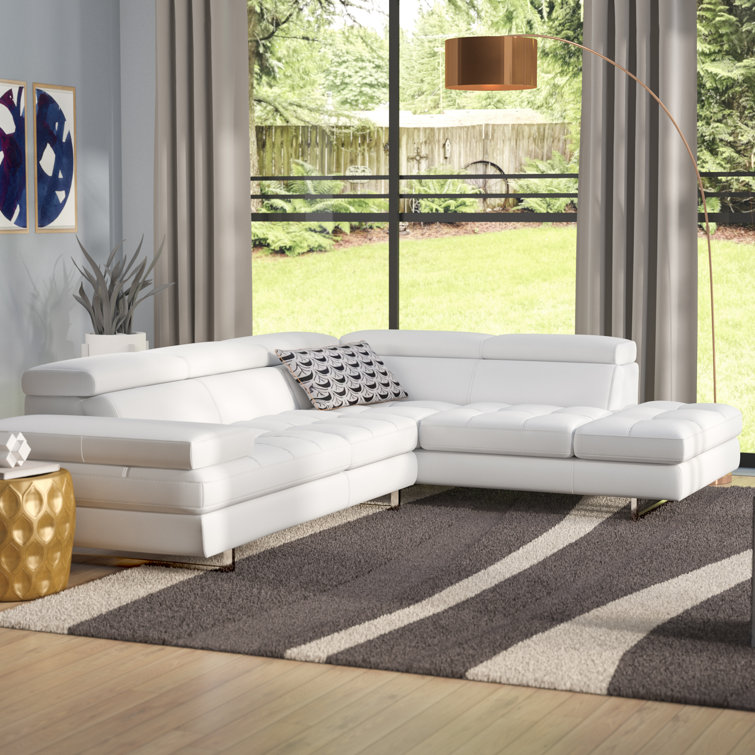 A black leather sectional sofa can add a touch of elegance to a modern apartment or office and there's none better than this five-seater sectional which is constructed with thick Italian leather.
Available in left or right-hand orientations and a choice of ten colors of leather, this sofa is incredibly durable and easy to clean. It has hundreds of positive reviews, with Wayfair customers pleased at how easy it is to assemble and how good quality the leather is.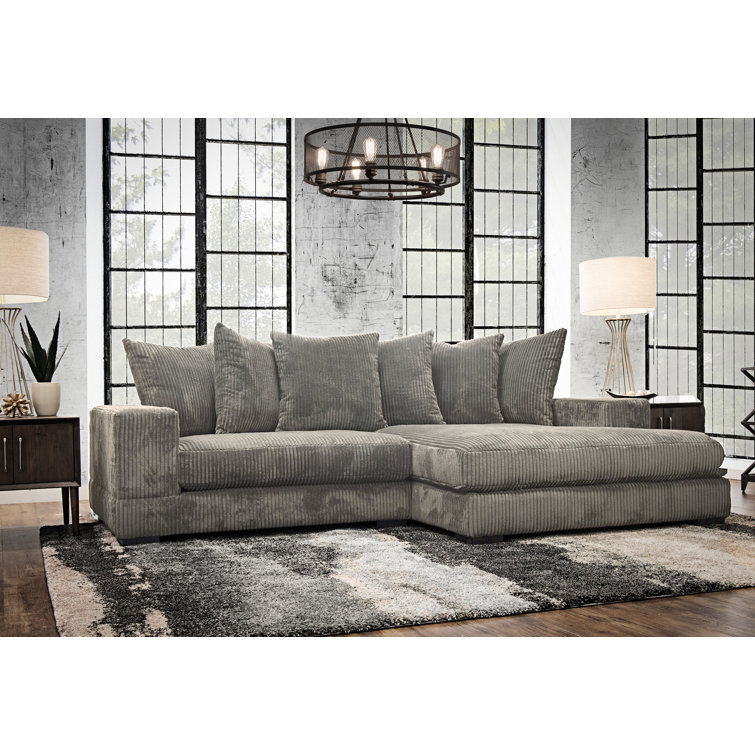 This small sectional sofa is just 107" wide yet provides plenty of space for two people to sit comfortably. With a chaise at one side, it offers the perfect spot to put your feet up and relax.
Available in a choice of four neutral colors, this comfortable sofa is built to withstand boisterous kids, although it may be better suited to an adults-only household unless you don't mind constantly rearranging the pillows!
With over 200 five-star reviews, people who have purchased this sofa have commented on how comfortable it is and how it's perfect for napping on.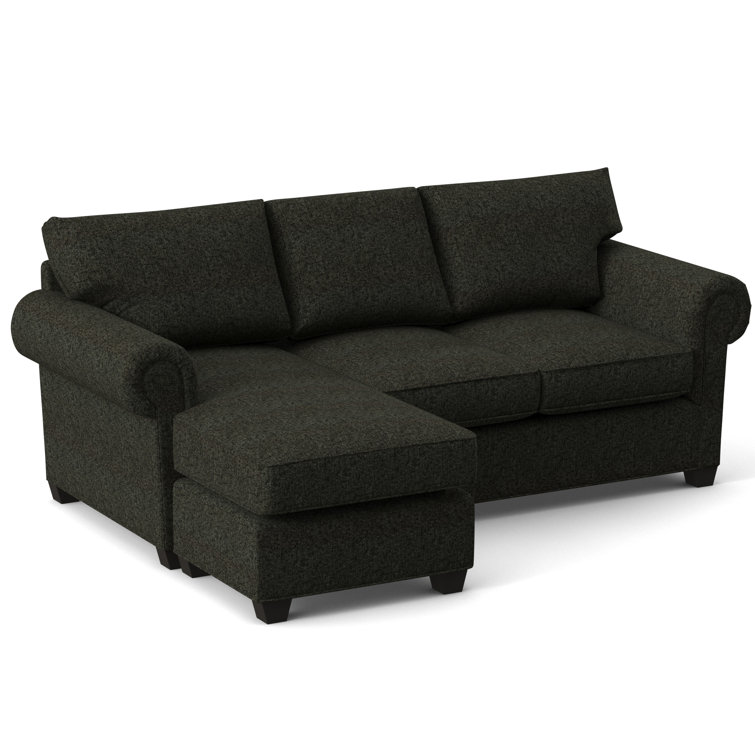 If you regularly have guests to stay over then a sleeper sectional is a great idea. This three-seater sofa is easily converted to a comfortable queen bed with a five-inch thick sprung mattress. As a sofa, it has a chaise on the left-hand side so you can put your feet up and relax.
Available in a choice of fifteen different fabric colors and with crisp, clean lines, this sectional couch will look great in any space. It has an average review score of 4.9 out of 5, so you can be sure that you're buying a quality piece of furniture.
What is a sectional sofa?
A sectional sofa is a specific type of sofa, couch or settee. Unlike a regular sofa, a sectional sofa is made of multiple pieces which can be arranged in a number of different positions. Most sectional sofas are L-shaped to fit neatly into the corner of a room, although you can also find U-shaped and curved sectionals.
As well as offering the versatility to have a left or right L-shaped configuration, sectional sofas are ideal for people who live in apartment buildings. They can be broken down into between two and seven pieces, which makes it much easier to fit your new sofa through narrow doorways or to get it up the stairs.
What are the most comfortable sectionals?
The most comfortable sectional sofas allow you to put your feet up, stretch out and relax. If comfort is your priority, you should look out for styles which include a chaise at one end or the option of reclining seats.
Some people find that soft, squashy sofas are the most comfortable for lounging in front of the TV or with a book. However, if you have back problems or struggle to raise yourself from a seated position, then you may find that you prefer a more sturdy, upright seating style. Whichever you choose, you can always add pillows or a throw blanket to make your sofa more cosy.
How to choose a sectional sofa
There are several things that you should think about when choosing the best sectional sofa from Wayfair for your living room, family room or den.
Space
Before you begin sofa shopping, it's vital that you should measure the space you have. You'll want to choose a sectional sofa that's the right size and shape to fit neatly into your room without looking crammed in.
We recommend that you also measure your doorways. If you can't get your new sofa into your house you may need to remove windows, which is an extra cost that you should avoid if possible.
Style
Sectional sofas are available in a variety of different styles and you'll want to choose one that fits in well with the rest of your decor.
Wayfair makes it easy to find the style of sofa you're looking for, as you can filter your search by the following style options:
Modern & Contemporary
Traditional
Glam
Mid-Century Modern
Scandinavian
Farmhouse / Country
Rustic
Coastal
Industrial
Cabin / Lodge
Global Inspired
Bohemian
Tropical
French Country
Material
When choosing what kind of upholstery is best for your new sofa, you'll probably want to consider what's practical as well as what looks good, especially if you have kids or pets.
Leather or faux leather sofas make a good choice because they can be wiped clean. However, fabric sofas made of polyester, linen, velvet, cotton, chenille and microfiber can be treated to make them more resistant to staining. You could also consider performance upholstery fabrics like Sunbrella and Crypton which are very durable.
Color
Sectional sofas are available in every color of the rainbow and Wayfair makes it easy to narrow down your choices by simply checking boxes next to the colors that you would consider.
The most popular colors for sofas are neutral shades like gray, brown or black. White and beige sectional sofas can look beautiful but they tend to require a little extra care as they can show dirt easily.
If your room has plain neutral decor, then why not make a statement with a bright and bold sofa? You could choose a striking color like pink, green or orange or go for a bold print like stripes or a floral design.
Features
Sectional sofas can come with some pretty snazzy features. One thing to look out for is the ability to recline. Reclining sofas can be reclined either manually with a level or with a power recliner button. While reclining sofas can be super comfortable, they can present a hazard, which is something that you'll certainly want to think about if you have kids or pets.
Another great feature to look out for in a sectional sofa is storage. You may be able to lift up the seat cushions to store things like pillows and blankets inside the sofa. Some sectional sofas also come with matching ottomans which have storage inside.
Are Wayfair couches good quality?
Wayfair offers a huge selection of couches. The company does not manufacture any of these themselves, but sources them from a large number of independent suppliers. As a result, the quality of the products varies considerably.
On Wayfair, you can find sofas of varying quality, from cheap sofas that may only last a few years to high-end luxury sofas that are built to last.
As Wayfair sells only online, you can get good-quality sofas for a lower price than if you were to buy one from a local sofa shop which has high rental costs to cover. Of course, the downside is that you can't test out your Wayfair sofa before you buy it.
With this in mind, we would advise reading reviews carefully before choosing a sofa from any online retailer like Wayfair. You'll want to make sure that the people who have already purchased the sofa are happy with it and that it is of good quality.
While the cheapest sectional couches on Wayfair can seem tempting, it's probably worth paying a little more if you can to ensure that what you're buying is of decent quality.
Is Overstock better than Wayfair?
One popular alternative to Wayfair for furniture is Overstock. But which is better?
Just like Wayfair, the Overstock website is very good – it loads fast and is easy to use. It doesn't have quite as many sectional sofas as Wayfair, but there's still a decent selection to choose from.
Both retailers have a very similar business model in that they drop-ship items to you from various manufacturers. As such, the quality of products varies depending on the manufacturer.
Online price comparisons show that Wayfair is generally a bit cheaper than Overstock. However, if you have the time then you may wish to search for sofas on both sites to compare the prices of the ones that you're interested in.
To conclude
Sectional sofas are stylish and practical. Choosing an L-shaped sofa is a great way to maximize your space and having a chaise or a recliner adds extra comfort.
Wayfair offers a huge choice of great-quality sofas, so no matter what style or color you're looking for, you can easily find the perfect sectional for your needs. As with any online store, it's always a good idea to read the reviews to find the best sectional sofas and couches that are built to last.
More Living Room Ideas:
More Wayfair Ideas:
These Are the Best Computer Desks On Wayfair {find something that suits you!}
Best Hot Tubs on Wayfair {top 7 hot tubs for a backyard oasis}
Best Wayfair sectional sofas