IKEA is so popular that there is no wonder so many people have found amazing hacks to personalize their affordable furniture to suit their needs and tastes. Bathroom vanities are a popular IKEA hack with many creative ways to transform your bathroom space no matter what your space or budget is.
This post contains affiliate links. Please see our disclosure for all the details.
Kallax Bathroom Vanity Hack
See how this IKEA fan used the Kallax shelving unit and transformed it into a stunning bathroom vanity with plenty of storage. A perfect repurposing of this piece that works perfectly in a small bathroom.
Kitchen Cart to Bathroom Vanity
Bathroom remodels don't have to cost a lot of money to look absolutely amazing. Check out this tutorial for turning an IKEA kitchen cart into a sleek and stylish bathroom vanity.
RELATED: 22 Clever IKEA Billy Bookcase Hacks
Rolling Ikea Vanity Cart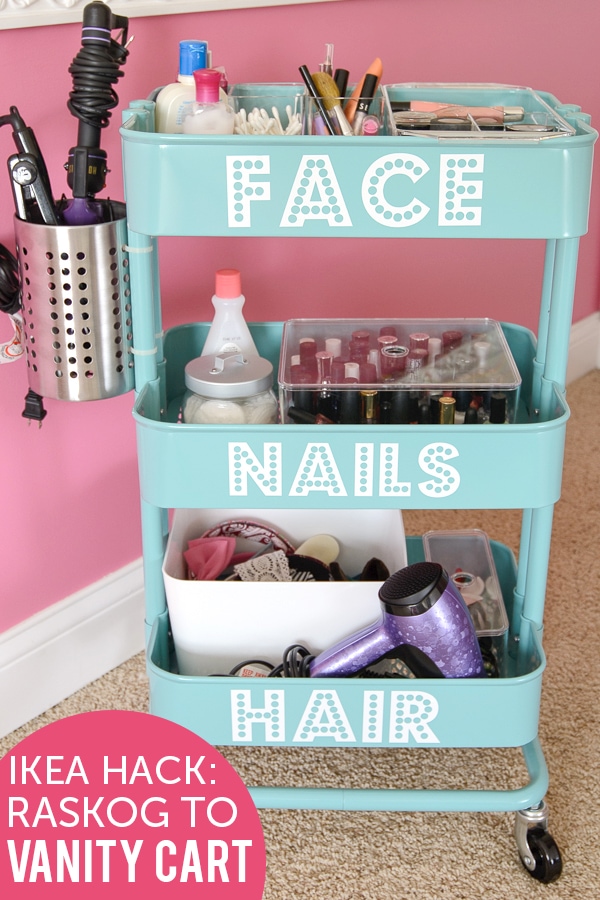 Maybe you have a really small bathroom, or multiple people trying to share a bathroom to get ready every morning. Enter the DIY rolling vanity cart and you can simply roll it into your bedroom or wherever you find yourself getting ready in the morning with all of your supplies in one place.
Ikea Silveran Vanity Hack
IKEA has a line of high quality, affordable bathroom vanities. See how this IKEA Silveran vanity was transformed to perfectly fit the style and size of this beautiful half bath.
Hemnes Vanity Hack
The IKEA Hemnes vanity is a classic bathroom staple, especially in a small bathroom. Not all hacks are complicated, this one simply involved a coat of paint to bring the look of the bathroom together.
RELATED: Genius IKEA Plant Stand Hacks (keep your houseplants happy)
RAST Chest of Drawers to Vanity Hack
Check out this tutorial to see how one IKEA fan transformed a RAST three drawer chest into a bathroom vanity. Storage, style, and a sink to make your bathroom transformation unique!
Vintage Silveran Vanity Hack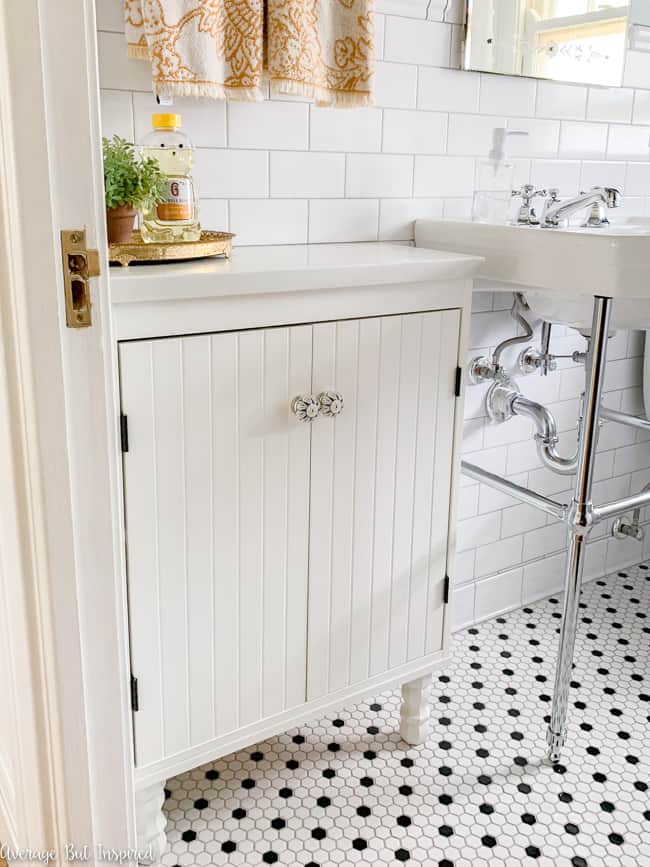 Here is another IKEA Silveran vanity hack designed to fit in a small space. This one was for a 1920's bathroom renovation that kept the vintage style of the original bathroom.
Ivar 3 Drawer Chest to Vanity
Check out this hack for turning an IKEA Ivar 3 drawer chest into a gorgeous bathroom vanity. After adding a sink and a colorful coat of paint this Ivar 3 drawer chest turned vanity really brings the room together. Here's a link to a picture of the fully finished project.
Hemnes Dresser To Vanity
Sometimes no matter how much you search you can't find a vanity that fits your space, design needs, or budget and that's why IKEA is so amazing. This hack shows you how to transform a Hemnes dresser into a bathroom vanity with plenty of storage.
Eket Vanity/Dressing Table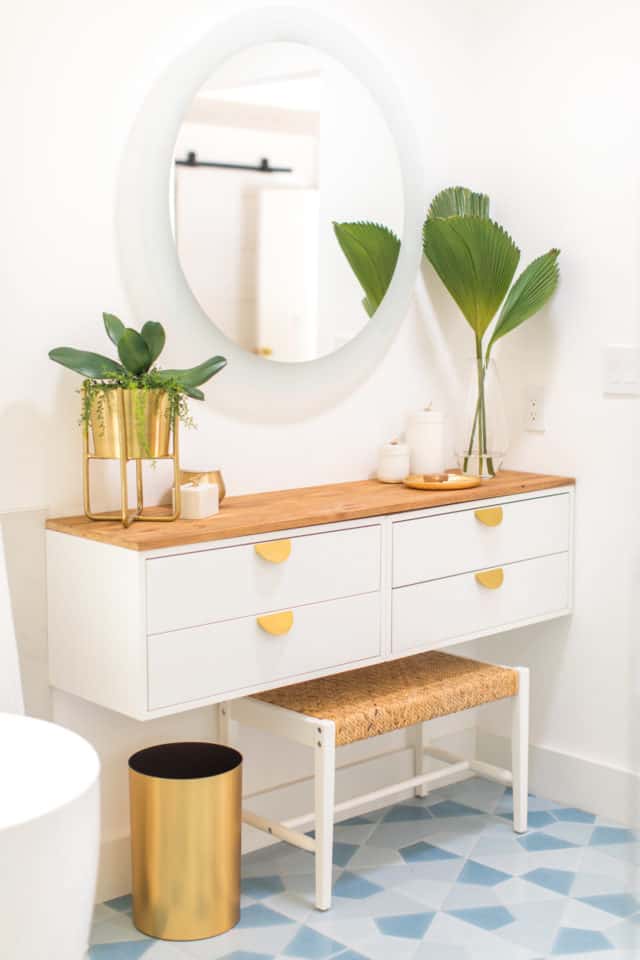 This tutorial shows you how to turn Eket cabinets into a floating vanity or dressing table. A simple transformation that gives you plenty of space and storage to get ready.
RELATED: 14 DIY IKEA Closet Hacks You Ca Do Easily!
Lillangen Vanity Hack
Another great IKEA hack for smaller bathrooms that is super affordable too. All you need to transform this piece is cabinet handles, a fresh coat of paint, and the sink of your choice.
DIY Vanity for IKEA Sink
This IKEA fan already had her sink picked out, but couldn't find a vanity base that she loved so she had one built instead. Here is the tutorial for building your own vanity to fit an IKEA sink.
Akrum Kitchen Cabinets to Vanity
This IKEA bathroom vanity hack transforms Akrum kitchen cabinets into a bathroom vanity with double sinks. A Lagan countertop and some new drawer pulls completes the look for this bathroom remodel.
Floating Reclaimed Wood Vanity for IKEA Sink
This floating reclaimed wood vanity looks amazing and you can design it for the IKEA sink of your choice. You can find full instructions on how to build a reclaimed wood floating vanity for your sink here.
Godmorgon Live Edge Vanity Hack
The Godmorgon line of IKEA vanities are beautiful and functional all on their own, but sometimes you want something a little more unique. Check out this tutorial for giving your Godmorgon vanity a live edge to give your bathroom some extra personality.
Fullen Sink Vanity Shelving Hack
This IKEA fan was a little disappointed that her Fullen sink vanity unit didn't have anywhere to put those necessary bathroom essentials. Not to worry though, because she came up with a clever, and beautiful hack to shelve her storage woes.
RELATED: 8 Best Ikea Reading Chairs That Are SO Comfy!
Groland Kitchen Cart to Vanity
One clever IKEA hacker turned their Groland kitchen cabinet into a beautiful bathroom vanity with a vessel sink. You can learn more about how they completed the transformation here.
Lillangen Lift
This clever IKEA transformation changes the entire look of the Lillangen vanity and provides some seating or storage for the bathroom as well. You can see how this hack was completed here.
Godmorgon Floating Vanity
Check out how this handy DIYer cut the Godmorgon vanity in half, to make it a floating vanity for a small powder room. Looks beautiful, and still provides the storage you need for essentials in a soft closing drawer!
Hemnes 2 Drawer Cabinet to Vanity
Look at the beautiful clean lines and modern look that this DIY IKEA fan was able to create with the Hemnes cabinet turned vanity. A modern looking functional change for a beautiful bathroom.
RAST Chest of Drawers with Salad Bowl Sink
Yes, you read that right. One clever IKEA hacker transformed her RAST set of dresser drawers into a beautiful shiny teal vanity, with a salad bowl for a sink! This is an impressive hack, and the final product looks amazing!
IKEA Sektion Cabinets to Vanity
If you are blessed with enough bathroom space to accommodate a vanity with double sinks then this IKEA Sektion hack might appeal to you. Plenty of storage space in the drawers on the bottom and your choice between vessel sinks on top of the vanity or undermount sinks. You can truly customize this hack for any look or budget.
Conclusion
You can create the bathroom of your dreams using IKEA products without having to break the bank. There are so many different doors, handles, and finishes that you can use to make your bathroom look and feel just like you want it. What is your favorite IKEA bathroom vanity hack?
IKEA BATHROOM VANITY HACKS